Mar
19
Celluloid Stag'ing
| Author: BerdleyChoong™ | Posted: Monday, 04:01 AM | Category: Blog 2007 |
A weekend to splash the fun!
Booked tickets to "The Swimming Instructor" by ACTION Theatre for tomorrow. Looking forward to it anxiously, especially it was my very first theatre production to attend years back, now with a brand new cast and new packaging.
Just realised that my favourite food-court is FOOD REPUBLIC, where it features fantastic varieties of delights, and it makes me spoilt-for-choice. One of which, my favourite is..
HOKKIEN FRIED PRAWN NOODLE! Yum Yum!
It simply makes you crave for more! Hehe.
-=-=-
Head down to Sentosa for my sun-bathing session.
It feels good to relax by the beach, and to feel the warm from the smiling sun.
Outcome – a healthily tanned Berdley. Wow wee!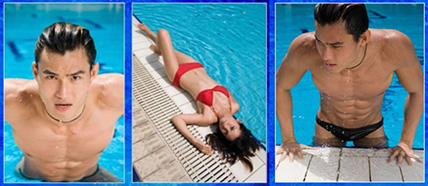 "Get to dive into a hilarious and poignant tale about the undercurrents of love, lust and and loss as experienced by a down-to-earth swimming instructor, a vivacious rich girl and a go-getting advertising executive.
Guan is a no-nonsense swimming instructor who teaches kids swimming at public pools. Without him knowing, he's become an object of affection (and desire!)"
I would say, this is a hilarious version with loads of cranky jokes which lingers around. The only thing left unchanged is definitely the sexy appeal.
I would applaud for both Christian Koh (once again) and Lim Wee Hong as they portray the character – Guan (the Swimming Instructor) in different charismatic approach.
After the great production, went to The Coffee Bean and get myself a glass of Hot Vanilla before heading down to Powerhouse for my first appearance after 2-weeks of M-I-A.

The clubbing experience if ever so GREAT with DJ George Leong, though some unhappiness happened upon entry to the venue..
.[ 0 Comments ].
Leave a Reply